Skip Boring Bars and Beers: 6 Unique Ways To Drink In Kilkenny
Renowned for its world-class craft beers and whiskeys, amazing music scene, and friendly locals, Ireland is indeed one of the places on earth to drink and be merry. However, drinking, socialising, and other nightlife experiences shouldn't be limited to Dublin, its capital city. If your idea of a perfect night out includes drinking local brews other than Guinness, enjoying traditional music and dance, and visiting pubs housed in medieval buildings, then visiting Kilkenny is a must. 
As the sun goes down, the sound of traditional music, energetic laughter, and clinking bottles and glasses fill the narrow streets of the medieval city. 
Whether you're a craft beer aficionado who loves interactive brewery tours or you're simply drinking to have fun, we list down 5 unforgettable ways to drink in Kilkenny. 
1. Hit the traditional pubs for drinks and live music
Forget drinking expensive liquor in mediocre bars with lame, recorded background music. Kilkenny is home to a wide array of traditional pubs with an old-world charm and authentic vibe, serving the best drinks in the world. Aside from booze, grub, and tasteful interiors, you can enjoy performances from talented local musicians, performing live regularly. 
Take in the Irish vibe by visiting some of the all-around pubs and bars in Kilkenny. Some of the best pubs include The Pumphouse, Andrew Ryan's Pub, The Field, Matt the Millers Bar, and Kyteler's Inn Pub.
2. Visit trendy nightclubs and dance the night away
Live music doesn't limit to trad Irish musicians with fiddles, Uilleann pipes, and impressive vocals. Kilkenny's trendy nightclubs, for instance, are supercharged with talented DJs, smashing out pulsating tunes that make unforgettable nightlife experiences. The nightclubs also feature large dance floors where you can dance to the beat while holding a cold glass of cocktail or beer. 
Some of the best nightclubs in Kilkenny include Langtons Club, Biddy Early's, and Left Bank. Should you plan to party until the club's closing time, just make sure your hotel in Kilkenny is only a stone's throw away from these nightlife destinations for a safer and more convenient night out. 
3. Enjoy a brewery tour at Smithwick's Experience 
Forget Dublin's Guinness Storehouse when you're in the medieval city —Kilkenny has its very own Smithwick's Experience! And you'll be one of the first to witness its grand opening after its closure for a couple of years. 
Smithwick's Experience will reopen this Summer 2022. Here, you can immerse yourself in the story of Smithwick's, Kilkenny's famous ale (and Ireland's oldest ale), and how it has been crafted over generations. Aside from the interactive guided tour of the 18th-century brewery, visitors will also enjoy tastings and access to their gift shop. 
If interactive tours don't suit your fancy (and you just prefer sipping pints of different craft beer!), Kilkenny has several breweries and pubs you can check out including Brewery Corner
4. Get spooked in an old, haunted pub owned by a witch
Established in the 14th-century and housed in a historic building that dates back even further to 1263, it's no surprise that Kyteler's Inn has a lot of spooky stories to tell. It's renowned, not only for being one of the oldest inns in Ireland but for its intriguing founder: Dame Alice de Kyteler a.k.a Ireland's "first witch".Alice was accused of witchcraft during that time but luckily managed to escape her fate of being burned…and the rest is history. 
Aside from stopping for a pint, meal, and lovely traditional music, you may also enjoy hearing folklore, especially tales of witches and poisoned husbands. Who knows? You may also spot Alice herself, who is believed to haunt the place up to this day. 
5. Chill at Kilkenny's beer gardens and other open spaces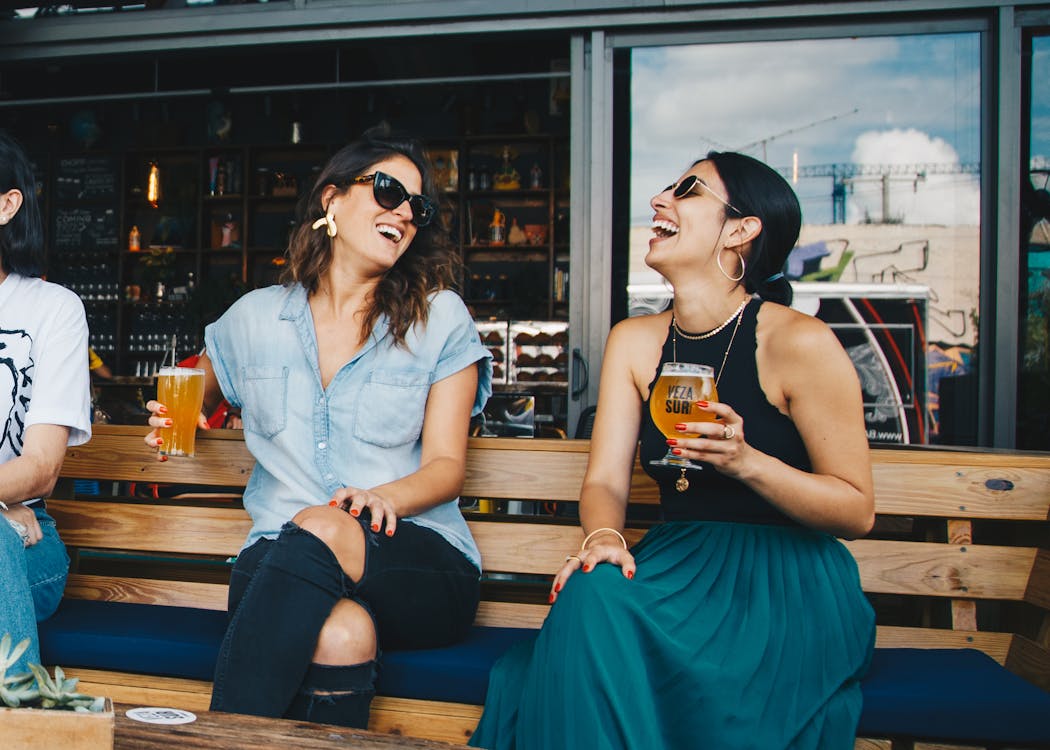 Still a little anxious about cramped pubs due to COVID-19? Luckily, Kilkenny has a couple of open outdoor spaces for drinking, dining, and socialising. 
Check out Kilkenny's beer gardens. These open-air watering holes may include comfy sofas, beach hut vibes, scenic river views, and great music. Some of the best local-approved beer gardens to visit include: 
Billy Byrnes

Sullivan's Taproom

Langtons, Terrace Bar at Kilkenny Rivercourt

Bridies Bar

The Dylan Whiskey Bar
6. Pair your booze with sumptuous grub
What's the best thing to pair with your pint of beer or glass of cocktail? No, it's not cigarettes or chips — it is real, hearty food. 
Smart drinkers can agree: drinking without eating something filling beforehand is one of the worst crimes you can commit. Perhaps, you've had a couple of hangover stories made possible by an empty stomach. Luckily, you'll never go hungry in Kilkenny, as the city is home to amazing restaurants and gastropubs. 
Cheers! 
Author Bio:  Carmina Natividad is a travel and lifestyle writer. Aside from taking vibrant street photos, you can find her writing articles about travel, food, and lifestyle. To know more about hotels and travel blogs, you may visit Pembroke Hotel Kilkenny.